Mon 21 Nov 2005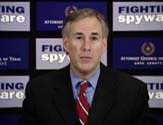 This class action was filed on November 21, 2005 in the District Court of Travis County, Texas by Texas Attorney General Greg Abbott on behalf of the Citizens and State of Texas.
The complaint alleges violations of the Texas Consumer Protection Against Computer Spyware Act ( TEX. BUS. & COM. CODE § 48.001 et seq. ).
The case seeks:
Temporary and permanent injunctions

preventing Sony from Offering for sale or selling any good which includes or installs any software which either:

Changing the name, location, or other designation of computer software to prevent the owner from locating and removing the software, or
Creating randomized or intentionally deceptive file names or random or intentionally deceptive directory folders, formats, or registry entries to avoid detection and prevent the owner from removing computer software.

Misrepresenting the extent to which a computer software component must be installed on a computer in order to play a particular type of musical or other content.

One Hundred Thousand Dollars ($100,000.00) for each violation;
Attorneys' fees and costs of court;
costs of investigation; and
all other relief to which Texas may show itself entitled
Texas citizens should fill out the online complaint form.
Court Documents:
Complaint [PDF]